If you've followed me on instagram, you'll know that several weeks ago I nabbed the most awesome afghan from an adorable Etsy shop that features lovely vintage finds.
Seriously. It is so soft, and the colors are perfect. Anyway.
I adore a well curated shop, and
The Retro Remedy
is a wonderful example. I contacted the owner of the shop, Amy McMeeken, and asked if she'd be willing to allow me to interview her for Oh, Cecila, and she very graciously agreed.
Q: How did you get started with The Retro Remedy?
A: First a short background bio, I have been a vintage enthusiast for nearly all of my life. I can't remember the exact age of my first yard sale but I know it was early grade school. I bought a cuff bracelet (which I still have) for 25 cents. I remember being so blown away that I could buy something so wonderful with change I found outside. At very young age I wanted to be a treasure hunter/prospector. I did not even know if these jobs existed but I knew that was what my soul told me. I used to dig holes in my back yard looking for jems and dinosaur bones. I feel that what I do know is stemmed from that love of discovery and wanting to preserve history. So fast forward many years later, I am still a collector and avid yard sale-enthusiast and I am a recently divorced single Mother suffering some hard financial times. I sell everything of value to provide for my daughter but I still am struggling. I know that some of my mid century finds from over the years are worth something but that they will not sell that well or fast on Craigslist. That is when I got on Etsy! I searched how to open a shop. At first I only had my own collection pieces but after my budget was under control I spent every extra cent on finds for the shop.
Q: You said you like the idea of preserving history-- I'm a professor of American history, so preserving the past holds a special place in my heart! With that in mind, what has been your favorite find so far?
A: Oh no way!! That is so cool! I am very good at math (but still hate it) and so I did not have to attend classes in High school so instead I took extra History and Art classes.
It's really so hard to say what is my favorite find. I really love so many. I just recently found a 1860's photo album on a floor of an abandoned garage. It has civil war era soldier photos in it. I do love important historical events such as the Civil war but even more I love these items because I find the everyday life so fascinating.
Q: Where do you find items for the shop?
A: I crawl to the ends of Earth for vintage.....and by that I mean I am not too proud to dumpster dive! Seriously I have stopped at curbs, dumpsters, free boxes and old creepy sheds and basements. I frequent local thrift stores and Yard sales mostly. But the occasional Estate sale or junk yard are stops along the way too.
Q: Do you have favorite places to treasure hunt?
A: My favorite place to treasure hunt is secret but my top few would have to be church sales and barn sales, anything out in the middle of nowhere! They are the people less likely to update items and hold on to things the longest. If the sign says "Rummage" I hit my brakes and make a u-turn if necessary....I mean no I don't, I am always a safe driver. ;)
Q: Do you tend to gravitate toward certain items?
A: It's really something that is hard to describe. In general I buy things I like...simple as that. My favorite is mid century modern and Danish Modern. Most of the time I have a hard time selling these items and they go in my personal collection. I do have a special soft spot for anything rusty though.
Q:

I adore that owl!

Do you do a lot of treasure re-dos? Ever thought of opening another Etsy shop just featuring your creative remodels?
A: I do have quite a few repurposed or upcycled items, most are being placed in the shop but I have listed some on Etsy in the past as well. I will be adding new ones in the future as well. The first few things I repainted because it was flawed and would have been fated with a life rotting in the local landfill. Paint hid the flaw and the item has a second chance at life and somebody got a unique home decor item.
Q: What would you say is the inspiration behind the shop?
A: My biggest inspiration is my mother. She pasted away tragically, just a few months before I started the shop. Her death made me more aware of how precious and short life is. She was so creative and talented. She was an expert seamstress who never had professional class in her life. She could recreate anything from just looking at it. All growing up we struggled but I never really felt like it. She would go to great lengths to make sure we were whatever character we could imagine growing up. She even hand made me a unicorn costume once! I always said that we should go into business together, but we did not get that chance. So since then I am a bigger risk taker and I luckily have an angel who has been by my side.
I had so many inspirational family members to help feed my passion. My Father is also so very artsy and creative. He has the best eye for design. I remember long hours watching as he restored classic cars or made plans for his design of a new project. He even built a rack for our bikes out of pvc pipe! My Grandfather was a master woodworker and always took the time to teach me about history and nature. My Grandmother was an avid fan of "everything is useful" and worth saving. I learned very early how to repurpose and think outside the box.
My other Grandmother is so thrifty and smart it's a craft all on it's own that I hope to master.
I can't think of better mentors than this and I feel so blessed.
Q: Do you have any advice for artists or fellow treasure hunters who are thinking about opening an Etsy shop? Any lessons you've learned on running an online business?
A: First, I would say that you should find a team that has an actively daily chat. The sellers are all so friendly and supportive. Second, get really familiar with the post office prices and time frames. For me personally anyway, shipping has been a struggle at times. And Third great pics are your greatest asset.
Q: Okay, last one I promise. You are in the process of opening a brick and mortar store-- tell us
about it!
A: I

t really has been a dream in the making since I refinished my first piece of furniture in the 7th grade. It was a head board I painted to match my room. But more recently I met a friend who decided she was determined and was convinced I needed a store. She was just the push I needed and I don't think I would have ever been brave enough to open one without her. She found us the building at a "can't possibly refuse" price and the rest....well, it just kinda fell in our laps. We have made some strong contacts and great friends recently that have guided us in the right direction.




















I wish you all the luck in opening your new shops, and rest assured I'll be seeing you on Etsy. Thanks so very much for agreeing to do this interview-- you have been wonderful!
Please take a minute to check out Amy's Etsy shop, The Retro Remedy, and favorite it ASAP. Trust me, you don't want to miss anything-- right now she has some great vintage Christmas decorations...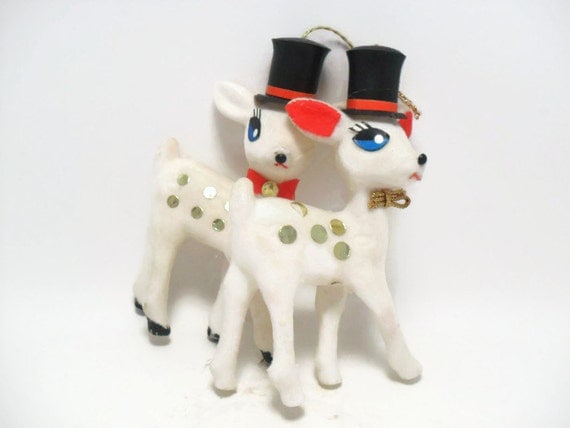 Follow along on her social media to keep up to date on her newest discoveries!
PS
As before, I am not receiving anything in exchange for this post, and none of the above links are affiliates-- I genuinely and without reservation endorse the shops and artists I interview for the blog!