I recently discovered these
gorgeous lamps
on Etsy. They would be perfect for our library/Jeremy's home office (I'm hoping to save up enough to get one for his birthday in December so shh, don't tell him). I was blown away by all the details and adore the Jazz Age feel, which would fit in flawlessly with our WWI era themed office.
Anyway, the artist, Vasilis Valomenos, is an architect, designer and craftsman currently living in Athens, Greece. He has been designing and manufacturing lighting objects since 2011, and has operated an Etsy shop since January of 2013. Mr. Valomenos very graciously allowed me to interview him via email for this post. The ability to talk to artists, incidentally, is one of my favorite things about having a blog.
Q: How did you get started making lamps?
A: The thing is, that being an architect, design, together with crafting small scale items in precision, was always a familiar procedure (we used to do a lot of carton, balsa and wooden models to preview volume and composition of our designed spaces). So I decided to use this same principles and knowledge to manufacture something that is no longer a model of, but an item that it has a function of its' own and from all the small-scale functional objects, I decided that lighting is more vivid and affecting the space's qualities – than for example, an ashtray or a coaster.
Q: What is the inspiration for your designs?
A: First I will mention the obvious: Mondriaan and De Stijl. But considering my choices on colors of shades and materials, I would say that I desired to produce the ambiance and color-warmth of a Mackintosh, vitrage technique or Art Deco-era lighting, which in their turn seem to express spatially my favorite swing and bebop era. After mentioning western culture references, I should not forget minimalism and shadows appreciation in Zen, as well as ancient Greek mysticism of golden ratio, which are both portrayed as the very basis of my work. Sometimes my creativity is even motivated by some geometric challenge alone (usually emerging as a restless thought just before I am to fall asleep).
Q: How did you get interested in the jazz age?
A: I love Jazz music! I listen to all aspects of jazz and improvisational music (including oriental – Balkan, Greek, Turkish, Indian, African and Arabic). Being a clarinet player myself, I see Jazz as a "conversational" and communicative music, a dialog of musical creative ideas. What is most important for me, I don't see Jazz as widely presented nowadays – a
cerebral "difficult" music for the high-class intellectuals and the self-referenced musicians , but as presented in Jack Kerouac's On The Road and Pic, John Cassavetes' Shadows and Jim Jarmusch's Permanent Vacation: an arousing, intuitive, urban oriented (any urban, from NYC to Athens and Hong Kong, as long as it is enough frenzy) , often dancing, often sentimental and pain-expressing music; a soundtrack for our lives. I would say that the so called Jazz – and mainly bebop - era was the period with all these characteristics found their pick.
Q: Who is your favorite Jazz musician?
A:
Charlie Parker for his absolute genius, innovations and flowing sax-blowing style, and Charlie Mingus for his orgy-like (in ritualistic sense), strongly afro-American, rhythmic and bass oriented musical compositions. At least this is how I see things in my humble mind…
Q: Do you listen to any particular music when you are working on your designs?
A: I listen to either jazz or – if have to deal with mathematics and need more concentration – I search for some "background" music like J. S. Bach or even some Drum and Bass online radio that I keep in favorites of my desktop pc.
Q: What is the process you use for making lamps? How do you start?
A: The whole procedure of making these lamps is taking place to the entrance hall of our (mine and my wife's) 2 rooms - apartment, where was the only possible position for me to keep a big desk for my pc and lamp manufacture workshop. Creation of the frame and bases is my first step. Cutting the 8x8mm wood sticks in the right length according to design, and then drilling them to add the "joints" that keep pieces to each other - supplementary to wood glue, and provide the desired stability and safety in use. Then putting together the superficial or "tympani" frames of smaller wooden sticks of 2x3mm. This is the hardest and most time consuming work: fitting small pieces to the main frame and even smaller to each other, to create these "Mondrianish" divisions. When this is done, I consider to be "almost finished": the fabric ironing, painting, drying from paint, ironing again, drawing and cutting the fabric pieces, and finally attaching them to the tympani frames, it's easier than the former (considering also that in this phase I get lots of help from my wife, Ana – who is also credited for the nicest of the photos of my lamps).
Q: Where do you get your materials?
A:

I get the walnut wood in big piece (25x5x200 cm) from a wholesale wood supplier and take it to my neighborhood carpenter to cut it to 8x8mm sticks. I also get the 2x3 and 3x3 mm walnut wood sticks from some hobby-model shop, while the Cabot fabric from the fabric shops Aeolou-district in the "deep" center of Athens. The search for materials and tools is one of the pleasures of this job, by the way!
Q: Do you have favorite materials to work with?
A: Wood and fabric are my favorite materials to work with. Not much to say about the fabric: classic light shader, easy to work with and organic material. Many reasons - on the other hand – to be passionate about the wood: colors, touch, smell, warmth and coziness for the user. I would work with metal as well, but that has the precondition of a bigger workshop and the right equipment; maybe a plan for the future…
Q: What made you decide to open an Etsy shop?
A: Some friend (also architect) who is creating and selling jewelry in Etsy, talked to me about it. In that point I was still – naively - believing that in spite of economic crisis in Greece I would be able to make a living by selling my work to the Greek market, in prices that handmade work deserves to be paid for.
Etsy is a wide window to online world market, and I feel so proud to have been able to contribute to someone's space atmosphere, in places and continents – that probably I will never have the chance of visiting (like Australia), furthermore to take this journey of someone's custom order – communicating, co-creating and pleasing someone that I will never personally meet! (Never is a heavy word to be used two times in a sentence though; isn't it?).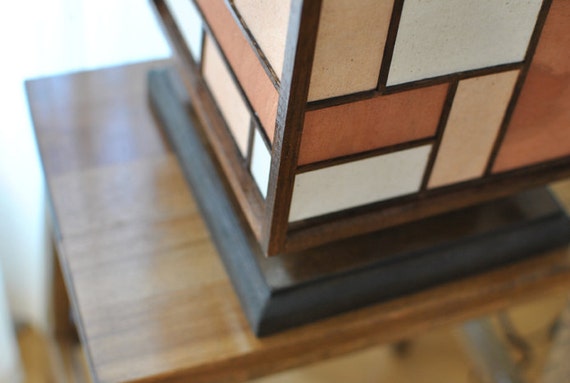 Q: Do you have any advice for artists who are thinking of opening a shop online?
A: I would say something like: "Go for it! The world isn't as it used to be… There are millions of accessible people out there and bigger chances for some of them to appreciate your passion and creativity - and be ready to pay for it too!"
Thank you so very much Mr. Valomenos for taking the time to share your art and artistic process!
Please, check out
Vvalo Jazzy Lamps
--they'd be perfect for any renovation projects, gifts or adding a truly unique and artistic touch to any room, and they are definitely on my wishlist. Favorite
his shop
& like his
Facebook page
-- let's show some support for the artists out there!
Aren't his ads awesome?
PS
Just to keep the record straight, I am not being compensated for this post in any way-- I just love the lamps!